Dental Implants vs. Bridges and Dentures

Houston, TX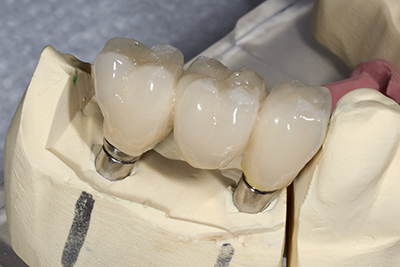 Not only does tooth loss impact your smile, but it also affects surrounding teeth and gum health. Therefore, it is essential to replace missing teeth to keep the adjacent teeth aligned and prevent gum and bone degradation. Replacing your teeth through restorative dentistry procedures allow you to speak and chew properly, improving cosmetic appearance and quality of life. Dental bridges, dentures, and dental implants are the most common options for replacing lost, damaged, or broken teeth.


What Are Dental Implants?

Dental implants allow the replacement of missing teeth by replacing natural tooth roots with artificial metal screw posts. Dental implants function the same way as teeth roots, stimulating the gums and jawbone and providing a solid foundation for replacement teeth. Dental implants are favored as a far more comfortable alternative to bridges and dentures, as the patient doesn't have to worry about slipping teeth, slurred speech, poor oral hygiene, and prosthetic teeth removal and reattachment.


Dental Implant Procedure

Dental implant surgery is performed in several stages, starting with damaged tooth removal, bone grafting, placement of dental implants, abutment, and prosthetic tooth replacement.

Before the dental implant surgery, the dentist will conduct a comprehensive exam which includes dental inspection and propose a treatment plan. After the evaluation comes dental implant placement and bone healing which may take several months. When the osseointegration process is complete, an abutment is attached to the implant, after which the dentist will place your replacement tooth and fix it to the dental implant.


Dental implants are made from biocompatible materials like titanium and zirconium dioxide. Such materials are safe and allow the bone to heal around the implant, integrating it into the jawbone and resulting in a solid foundation for the replacement tooth.


Some insurance plans cover dental implants, but typically the cost of dental bridges is always covered by insurance. However, if both of these treatment options are out of your range, you can opt for a less expensive option: partial dentures.


Implants vs. Fixed Dental Bridges

Dental bridges are replacement teeth held in place by adjacent teeth. Bridges can cover one or several missing teeth. Attaching the tooth-supported dental bridges involves grinding surrounding teeth so the bridge is placed upon them. In this process, the healthy adjacent teeth are intentionally damaged. Furthermore, the absence of tooth roots will not stimulate the jawbone and gums, leading to the deterioration of bone structure over time.

Dental implant procedures do not involve damage and harm to adjacent teeth. The implants are surgically placed into the jawbone, and on top of it is a replacement tooth that keeps surrounding teeth aligned and prevents bone deterioration. Dental bridges do not allow patients to floss or brush them efficiently, leading to tooth decay and bacterial deposition around the bridgework and root surface. Dental bridges usually fail after a couple of years.


Dental Implants vs. Removable Partial Dentures

Removable partial dentures are, as the name suggests, removable, which means they are not stable and supported like dental implants. The removable dentures can affect an individual's chewing abilities and speech and do not look and function as natural teeth. On the other hand, dental implants have a solid foundation that allows replacement teeth to feel like natural teeth. Dental implants do not allow surrounding bone and gums to deteriorate. Dentures, however, cause the jawbone to deteriorate over time, leading to a collapsed and wrinkled appearance of the mouth.

At Alexandra Garcia, DDS, MS, our dental professionals, Dr. Garcia and Dr. Alexandra Garcia, look forward to answering your questions regarding dental implants, bridges, and dentures. Call us at (346) 250-2930 to schedule an appointment if you want to discuss a treatment plan and want more information about these three tooth replacement procedures.